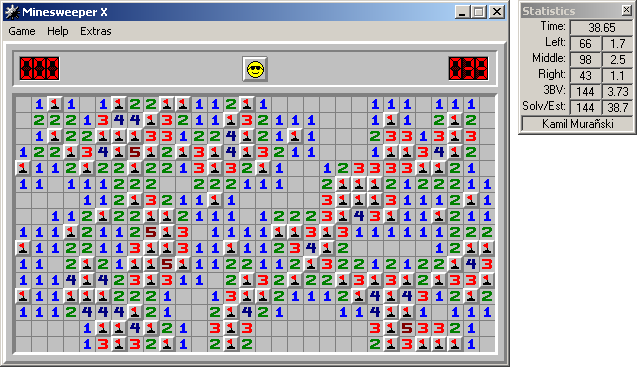 Version 1.16
Last Update April 25, 2017
A minesweeper clone with extra features, including time to hundredths, no board size limitations, encrypted videos, statistics window, board saving options and skinability. All in a small and speedy program!
Features:
System Requirements:
Windows 95 or greater. If it doesn't run, make sure you have the VB6 Runtimes installed.
Minesweeper X also runs under Wine. Either install the VB6 runtimes manually or using the command winetricks vb6run.
---
Feel free to email me any skins you create and I'll put them up on this page. Here's a description of the various skin elements. You can also send me your high score videos and I'll add you into the high score charts.
MINESWEEPER X SKINS
Default Skins
Windows XP
Windows 98
Black & White
by Microsoft
Vista Skin
Mine Skin
Mario Skin
by Mohammad Hosseyni
by Philip Jovim
by Jdaster64
Pac Man Skin
MaViz MS Skin
The Hibbeler Skin
by Jdaster64
by Mantas Vykertas
by Nicholas Hibbeler
Icicle
Ocean
Symbol Skin
by Arjádre
by C. L.
by Tobias Banzhaf
Scratch
Unknown
Colours Only
by Kris Decker
?
idea by Elmar Zimmermann
Narkomania
Minesweeper Clone
Arbiter Predator Skin
by Kostas Symeonidis
by Rodrigo Camargo
by Dmitriy Sukhomlynov
---
The first version of this program was completed on January 25, 2003. An older version (that has some cheating options) is archived here and Dmitriy Sukhomlynov has created a clone with similar options that I recommend.

---
2003–2017 Curtis Bright